MedSpa Consult & Overview
WHAT TO EXPECT AT YOUR CONSULT
At Cosmetic and Plastic Surgery of Central Pennsylvania, your skin care consultation is performed by our Board Certified Plastic Surgeon. Dr. Theodore Foley will meet with you to evaluate your skin and listen to your concerns about your skin's condition and appearance. Our MedSpa offers in-depth facial consultations to address your cosmetic needs. Patients receive a VISIA complexion analysis which illustrates patient wrinkles, sun damage, pore size, texture, UV spots, red areas, porphyrins, lash health, as well as "skin age estimate." By using this tool before and after recommended skin regimens, patients are able to truly measure their progress to rejuvenation.
Other body areas such as thigh and abdominal cellulite or fat may also be evaluated for treatment in the MedSpa rather than surgically. If those are areas of concern for patients, ask to discuss the non-surgical options of UltraShape Power and VelaShape III. The UltraShape Power and VelaShape III are for fat destruction and cellulite reduction/skin tightening respectively.
RECOMMENDED IN-OFFICE SERVICES
Benefits of MedSpa Consultation
Your personalized consult will include recommendations for specific in-office non-surgical treatments, if desired, as well as daily care products to maintain your results. Ask us about a VISIA skin analysis and/or nonsurgical body contouring appointment.
Microdermabrasion using SilkPeel DermalInfusion - $175
SilkPeel treatments provide microdermabrasion and also infuses patient skin with hydrating and/or nutrient rich solutions for enhancing skin health. DermalInfusion is an advanced skin-resurfacing treatment that combines exfoliation, extraction, and infusion of condition-specific serums to improve skin health, function, and appearance with no downtime. A patented, noninvasive treatment, DermalInfusion is fully customizable for conditions such as:
Anti-aging: fine lines and wrinkles, sallow skin
Hyperpigmentation: dark spots, sun damage
Dry and dehydrated skin
Blemishes
Rough skin texture
SilkPeel Packages Available- $750 Buy 5/Get 6th treatment FREE!
Chemical Peels
Chemical peels provide more advanced rejuvenation and overall skin health improvement with minimal downtime. A chemical peel is a topical skin treatment solution that gently removes the very top layer of skin to promote new skin regeneration. This treatment is commonly used on the face but is often applied to the hands, chest, and neck as well. Chemical peels lighten pigment discolorations, reduce lines and wrinkles, improve acne, and eliminate rough skin texture. We offer several options to suit your aesthetic goals. Our Plastic Surgeon and/or Physician Assistant will determine which peel is appropriate for you during your complimentary consultation.
Moderate Chemical Peel-$150
Moderate Peel Series of 3 treatments-$400 (All peels include VISIA analyses and post-care kits)
Ultimate Chemical Peels - $300-$500 Our most result-oriented medium depth chemical peel. It addresses deep acne scarring, excessive wrinkles, and more
serious skin irregularities like actinic keratosis.
Noninvasive Body Contouring
UltraShape Power and VelaShape III are optimal nonsurgical treatments for your body contouring needs. These are for patients who do not want to undergo surgery and do not want downtime. Whether you want to eliminate fat, help tighten skin, or reduce cellulite — these are the treatments for you.
These noninvasive tools are superior to their competitors like CoolSculpting and SculpSure, which produce less of a result per treatment and can produce significant problems such as pain and/or irregular contours.
UltraShape Power uses focused, pulsed ultrasound for fat cell destruction of the abdomen, flanks, thighs, arms, and bra areas. VelaShape III uses radiofrequency, infrared, vacuum, and lymphatic massage to reduce cellulite, tighten skin, and contour the body. It is used on the thighs, abdomen, flanks, arms, bra areas, and neck.
A series of three UltraShape Power and/or VelaShape III treatments once every two weeks is recommended for optimal results. Results will begin to be visible in the first week and will be full seen at 8 – 12 weeks after the last treatment in the series. Quarterly cellulite maintenance treatments are recommended for the VelaShape III.
Cost is based on treatment area and can range from $1000 – $3600 for a series of three treatments.
In summary, our in-office MedSpa treatments include:
For more description of each, please click on the links above.
RECOMMENDED AT-HOME REGIMENS
At Cosmetic and Plastic Surgery of Central Pennsylvania, we recommend using SkinCeuticals, SkinMedica, and or PCA for all of your at-home skin care needs. The products are clinically tested and formulated to correct signs of aging, protect healthy skin, and prevent future damage. We recommend using the "power of 3," which includes a topical antioxidant and sunscreen for daytime use and a retinol for nighttime use. SkinCeuticals CE Ferulic, Phloretin CF Gel, and Physical Fusion SPF are patient favorites for their antioxidant and sunscreen protection. SkinCeuticals' motto of prevent, correct, and protect helps patients maximize at-home skin care. SkinMedica TNS Essential Serum, Retinol, and Eye Repair Cream are our top SkinMedica sellers. TNS is a corrective product that helps rejuvenate your skin with its proprietary blend of growth factors, cytokines, antioxidants, collagen, and proteins. As we age, the production and levels of growth factors in our skin decrease. The growth factors in TNS essential serum are important for overall skin health because they help to maintain a healthy skin structure. Without these growth factors, more lines and wrinkles develop which can make you appear older than you feel. The SkinMedica retinols, which are also patient favorite products, can help to diminish pore size, repair texture, encourage cellular renewal, and minimize wrinkles. The eye repair cream can help reduce the dark circles under eyes and/or the fine wrinkles (depending upon which SkinMedica eye repair product).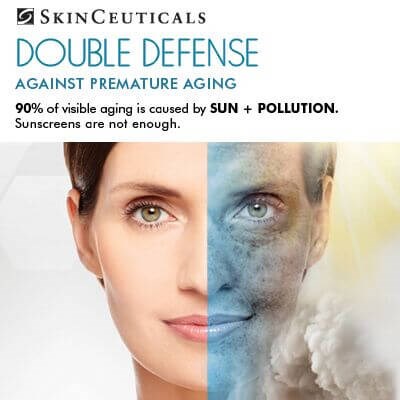 Prevention, Protection, and Correction

To maintain and improve skin health, an effective skin care regimen must contain three fundamental elements: Prevention, Protection, and Correction. The SkinCeuticals product philosophy is built around these principles. Designed to prevent future damage, protect healthy skin, and correct previous damage, SkinCeuticals is committed to advanced skin care products that are backed by science.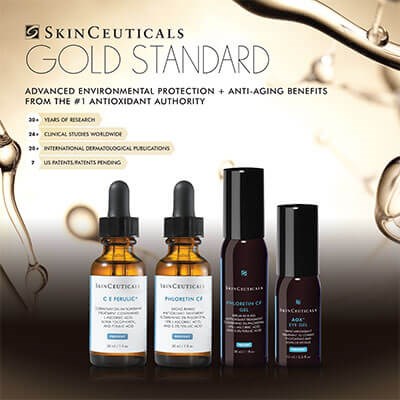 The Gold Standard

With four generations of topical antioxidant formulations, ten patents, and more than 200 studies published in prestigious medical journals, SkinCeuticals is a trailblazer in antioxidant science. Vitamin C in general helps neutralize free radicals to protect skin from oxidative stress and prevent visible signs of aging. CEF offers 8x environmental protection and anti-aging benefits. Phloretin protects skin from free radical damage and helps regulate pigmentation.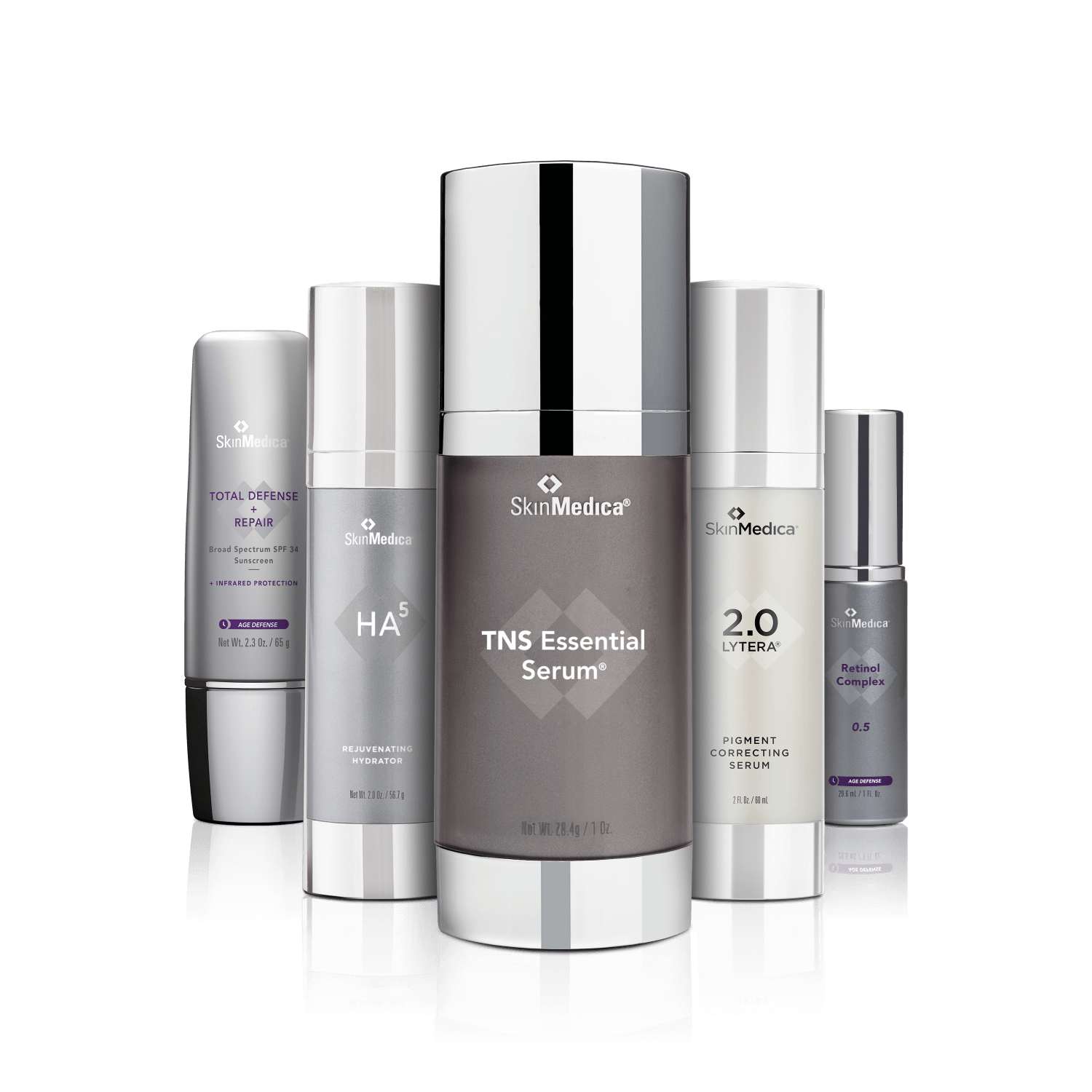 SkinMedica Best-Sellers

These SkinMedica favorites have been clinically proven to help patients with facial rejuvenation, skin texture, and/or skin tone. Patients have visible improvements with facial aging and skin health concerns.
Below is our in-office MedSpa Non-Surgical Service Menu
Facial Rejuvenation
How our MedSpa Services are Superior to Spa Treatments…
* Medical grade services & products only available to physicians' offices
* In-office medical grade services
* Supervised care by our Board Certified Plastic Surgeon
* Computer technology to view and track your rejuvenation beneath your skin
Reduce fine lines, wrinkles, and hyperpigmentation while enhancing skin texture, tone, and quality through Chemical Peels, Microdermabrasion, or Microneedling

Epidermal Chemical Peel (variety to choose from with Nurse and/or Physician Assistant) $200
Chemical Peel Epidermal Series (3): $550
Dermal Ultimate Rejuvenating Chemical Peel: $300 (MedSpa Forte Dermal Peel)
$500 (Dr. Foley TCA Peel)
SilkPeel Microdermabrasion (with Dermalinfusion) $175
Microneedling Series (3): eyes $875
face (neck included, if desired) $1375
larger area (ie. abdomen or thighs $1475)

Body Sculpting
How our Body Sculpting Services are superior to Others like CoolSculpting…
Our team uses technology which is less painful and more efficacious than other fat destruction techniques utilizing fat freezing or heating technology. Our in-office medical grade services are provided by certified Nurses and Physician Assistants with your care being continuously overseen by our Board Certified Plastic Surgeon.
Fat destruction abdomen, thighs, bra areas, arms
3 treatments UltraShape Power-$1800-$6500

Cellulite reduction & skin tightening: abdomen, neck, thighs
3 treatments VelaShape III-$1000-$1800

Cellulite reduction maintenance treatments
1 treatment VelaShape III-$300-$600/quarter

*Microneedling is amazing! It will tighten skin & reduce fine lines, pigmentation, acne scars, &
Stretchmarks…our Microneedling pen, the SkinPen is the only FDA approved device
*Individual treatments available for package price/3