At Cosmetic & Plastic Surgery of Central Pennsylvania (serving the greater Harrisburg, PA area), board-certified plastic surgeon Dr. Theodore T. Foley, MD, FACS offers DiamondGlow to correct various skin imperfections.
The Silk Peel (Dermalinfusion) is an advanced form of Microdermabrasion. The Silk Peel is a nonsurgical (no social downtime) skin rejuvenation treatment that combines exfoliation, extraction, and infusion of condition-specific serums to improve skin health, function and appearance. This results in a younger looking complexion.
Microdermabrasion is a minimally invasive mechanical exfoliation procedure for superficial skin resurfacing. By removing the uppermost layers of the skin in a controlled manner, cell renewal is stimulated with regeneration of a healthier epidermis and dermis. After repeated microdermabrasion treatments an increase in dermal thickness is seen with new collagen and elastin deposition. Improvement in rough skin texture, pores, acne, wrinkles, hyperpigmentation, and sun-damaged skin as seen. It can even be used to diminish and smooth stretch marks on the abdomen and breasts.
Traditionally, microdermabrasion devices have used crystals with negative pressure to draw the skin to the hand-piece tip, and crystals superficially abrade the skin's surface as they pass across the epidermis. Microdermabrasion has minimal discomfort, and no "downtime" of skin flaking and peeling.
Recent advances in microdermabrasion technology combine exfoliation with dermal infusion (the Silk Peel). During this process, topical products are delivered into the skin at the time of exfoliation. This takes advantage of the transient disruption to the epidermal barrier that occurs with removal of the stratum corneum to better deliver medications into the deeper dermal layers. The Silk Peel is more controlled than microdermabrasion in the way that it removes the top layer of the skin, to produce a better result. The Silk Peel uses the controlled specific vacuum pressure to pull the skin up into a chamber in the hand piece, where the skin is evenly abraded with diamonds as the abrasive tip to very consistently remove the stratum corneum, the depth can be controlled by setting the vacuum on the machine. This is significant because traditional microdermabrasion machines rely on the operator to apply the same pressure, at the same speed, consistently over the skin. It also can enhance results for conditions such as dehydration, hyperpigmentation, acne, and rosacea based on the products that are used.
The Silk Peel is fully customizable and the perfect solution to address a wide variety of skin concerns and conditions from head-to-toe and is suitable for all skin types and tones. And just like microdermabrasion, there is minimal discomfort, and no "downtime" of skin flaking and peeling.
Reviews
"Best plastic surgeon in the area! After exploring several options, I chose Dr. Foley because he was very qualified and knowledgeable. He was caring, professional and did a great job. He talked me through the procedure step by step. His staff was amazing and caring as well. He made sure I was pain free the entire time and put me at ease. I would highly recommend him to anyone seeking plastic surgery."
- Anonymous /
Office Visit /
Jun 28, 2017
"I was referred to Dr. Foley through a friend for removal of basal cell cancer on my upper lip.  Originally, I was scheduled for MOHS through dermatology at a local medical teaching facility.  The EOB - for the teaching facility - for the biopsy and initial visit showed very high charges, including a "facility fee" of over $700.  I was informed that I had to wait almost five months for the procedure. That's when I started looking for alternatives. Thankfully, I found Dr. Foley.  Cancer removed, clean edges, no scar and the procedure was done the week I called for an appointment.  The cost?  A small fraction of what is charged at the medical teaching facility. Did I mention the staff?  Very professional and friendly.   Lesson learned - getting the best health care solution does not have to be expensive."
- M.S. /
Yelp /
Mar 06, 2020
"I was referred to Dr. Foley through a friend for removal of basal cell cancer on my upper lip. Originally, I was scheduled for MOHS through dermatology at a local medical teaching facility. The..."
- M.S. /
Yahoo /
Mar 06, 2020
"Amazing Experience - From the moment I made a simple phone call to see about the procedure I was interested in , I was treated with such patience, and kindness. The office staff are real gems. My consultation was fabulous Dr. Foley thoroughly explained the entire procedure to me. His bed side manor is superb. The day of surgery was so exciting, I can't believe how smooth it went! He's articulate and my abdominalplasty is living proof, I literally could not be any happier, he has changed my life completely!!"
- C. /
RealSelf /
Apr 25, 2019
"My experience with Cosmetic and Plastic Surgery of Central Pennsylvania has been an experience worth bragging about! The front staff is very pleasant kind and always willing to answer all your questions no matter how many you may have! From my very first appointment with Dr. Foley he listened to my concerns and validated all of them. He literally brought tears to my eyes when he agreed that I indeed had Diastasis Recti. He saw what I was seeing after I had been shrugged off and looked at as crazy by other physicians. Dr. Foley is very caring and down to earth. He took his time with me and explained everything with my surgery in great detail. He listened to all my concerns and took them ALL into consideration and took steps to put my mind at ease to make me completely comfortable for my operation. His bedside manner is something you do not see often. I also liked that he focused only on what I wanted fixed and solely that. He did not bring up or pressure me to fix other things with my body. He is an honest caring trustworthy plastic surgeon. He will be my surgeon for any other procedures that I may need or desire in the future. If your looking for a good honest plastic surgeon look no further! I am in love with his work!! He made me look perfect and restored my body and gave me my confidence back!"
- H.H. /
Google /
Jan 15, 2022
Previous
Next
A great benefit of DiamondGlow is that it can safely be used to treat all skin types. Therefore, it is a great skin rejuvenation treatment if you have:
Oily skin
Rough skin texture
Acne or sensitive skin
Wrinkles and fine lines
Hyperpigmentation or sun-damaged skin
Cracked or dry skin on your hands or feet
Stretch marks
The new DiamondGlow III shown below with the skin clarifying and lumixyl solutions as well as the extraction reservoir on the far right.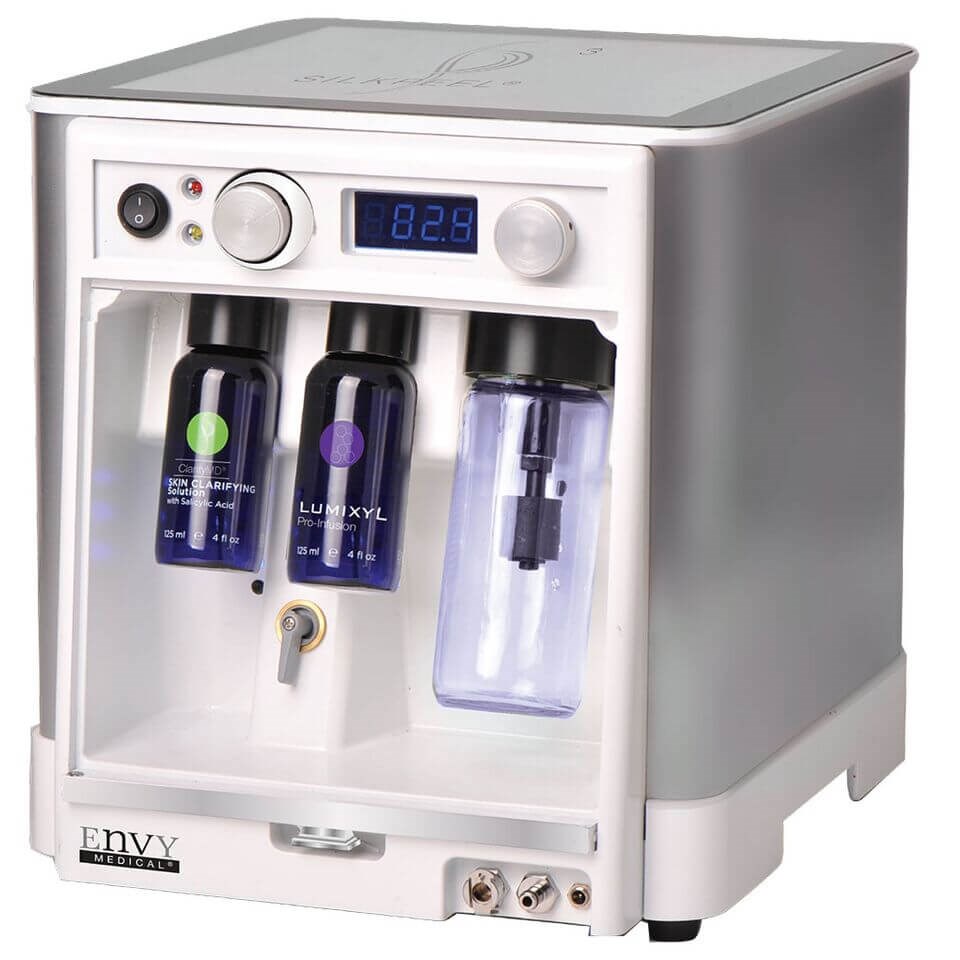 Prior to treatment, the skin is properly prepped by removing any makeup or lotion with a light cleanser. Then, a hand-held device is gently applied to the treatment area, which is powered by the Dermalinfusion system. The small wand utilizes diamond-tipped exfoliators and vacuum-type pressure to deeply cleanse and rejuvenate the skin. Like microdermabrasion, DiamondGlow gently removes the top layer of the skin to promote cell renewal. However, it also uses specific skin serums to replenish, smooth, and hydrate the skin. Typically, patients do not experience any discomfort during treatment and can immediately return to their everyday activities with no downtime. Treatments usually last 30 – 45 minutes.
DiamondGlow is a unique skin rejuvenation treatment because it offers several restorative skin serums and diamond-tipped exfoliators to address your specific skin concerns and needs. Prior to treatment, you may choose from pore clarifying, vitamin C, ultra hydrating, or skin brightening serums. Our aesthetician will also select the proper diamond grade tip that correlates to your specific skin type for the best results possible. The various exfoliation options and serums are what sets DiamondGlow apart from other skin rejuvenation treatments because it's suitable for all skin types. It also safely and effectively treats sensitive areas around the eyes and lips.
DiamondGlow offers 4 unique types of serums:
Ultra Hydrating: for patients seeking extra moisture and plumping due to dry skin, fine lines/wrinkles, and mature skin.
Vitamin C: for patients seeking antioxidant therapy due to sun damage, fine and dry lines, and mature skin.
Lumixyl: for patients seeking brighter complexion due to hyperpigmentation, melasma, and post inflammatory hyperpigmentation.
ClarityMD: for patients seeking treatment for acne due to non-inflammatory, or inflammatory acne, and acne scarring.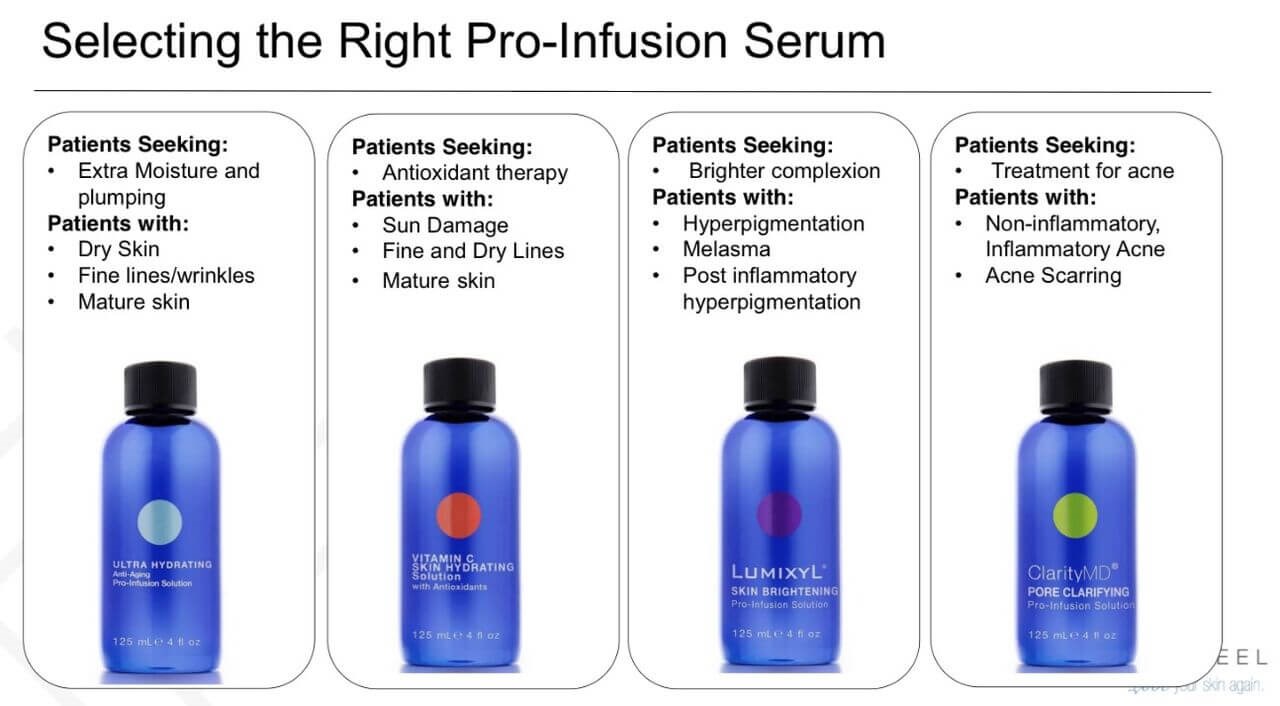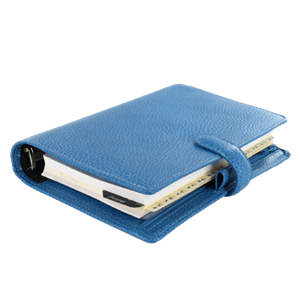 Plan Your Procedure
Average Cost

From

$150
Contact Us
If you have specific skin concerns or wish to improve the overall appearance of your skin, call or visit our office today to schedule your consultation. Our skilled aesthetician will be happy to restore the look and feel of your skin.
Laser treatments are in the works....Stay Tuned!
Face/Neck-$150
Face/Neck/Decollete-$175
Bundle pack...6 DiamondGlow treatments for $750
Related Procedures
Related Posts